Orchestra Novo and Michael Nowak present
Co-Creation Project II
The Music Inside
Piano Concerto No. 5, Emperor
Beethoven
Soloist, Dr. Chih-Long Hu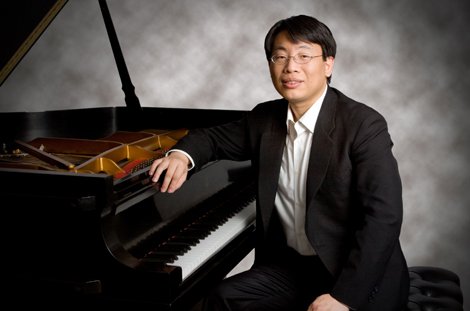 Sunday, October 29
4 pm
Cuesta Performing Arts Center
$40 General Admission
For Tickets are available at the door. Doors open at 3:30 pm
Our Program
La Creation du Monde Darius Milhaud
1892-1974
Pavane Gabriel Faure
1845-1924
Chih-long Hu, piano
Orchestra Novo
INTERMISSION
Concerto #5 Op. 73 "Emperor" Ludwig Van Beethoven
1770-1827
Chih-long Hu, piano
Community Novo: Co-Creation Project
As a continuation of our Community Novo: Co-Creation Project, Orchestra Novo has connected with Central Coast senior centers serving Alzheimer's and dementia patients. As part of the patients' art classes and art therapy, Michael Nowak will present to them Gabriel Faure's "Pavane," and they will be guided to draw and paint in response to the music and the feelings and memories it evokes. Their work will then be collected and featured in this concert.
This experience benefits seniors living with Alzheimer's and dementia by increasiong mental stimulation and assisting in recovery of emotion and memory that have been diminished. It is an opportunity for non-verbal creative expression of feeling and experience that can enrich self-confidence. The art and music enhances the ability to focus on details through guided, active music listening,
Participants will enjoy a sense of pride at having their creative works spotlighted at this concert and gain a greater appreciation and enjoyment of classical music.
We hope to bring to our community an increased understanding of the challenges of living with Alzheimer's and dementia, as well as a heightened sense of connection through shared experiences of music and art. This can bring a fuller understanding of how artistic creation fosters the understanding, expression, and release of deep emotions, and, create greater appreciation of the power of music and art in enabling expression of the human spirit.
Dr. Chih-Long Hu
Join us for an exciting performance of the Emperor concerto by Dr. Chih-Long Hu. A native of Taiwan, pianist Chih-Long Hu's performance career was launched after receiving honors including the Taipei National Concert Hall Arising Star, the Chi-Mei Artist Award, and prizes from the Mauro Monopoli International Piano Competition in Italy, the Concurs Internacional De Piano D'Escaldes-Engordany in Andorra, the Takamatsu International Piano Competition in Japan, and the International Russian Music Piano Competition in San Jose, California. See more>>
Beethoven – Piano Concerto No. 5 in E flat ('Emperor')
"Every portrait of Beethoven seems to drive home the impression that he was a composer whose music was tempestuous, brooding and muscular. And while that was certainly the case, the masterful Emperor Concerto is proof of the tenderness and beauty that runs like a thread through this great man's music." Read more>>
"The Emperor Concerto is a magnificent affirmation made in terrible times. (The title, by the way, is not Beethoven's and is known only in English‑speaking countries.)" Read more>>