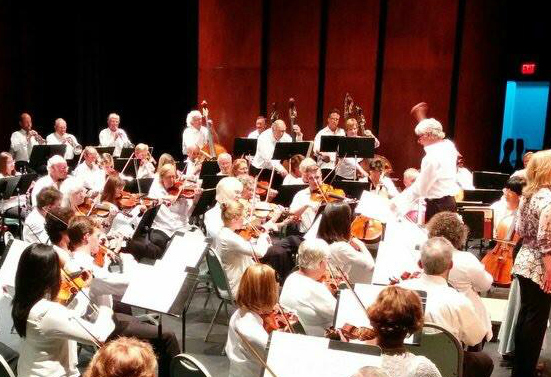 Inspire • Nurture • Transform
Orchestra Novo's purpose is to inspire and nurture our community through the co-creation and shared experience of orchestral and chamber music that deepens our connection to one another, our world, and ourselves.
Orchestra Novo serves as a leader in presenting performances and educational programs that transform and enrich all those with whom we come into contact.
Orchestra Novo was established in the fall of 2015 and gave its premiere performance at the Madonna Expo in a "Boston Pops-style" program of light classics and popular favorites.
Since then, Orchestra Novo has produced a series of innovative events; from intimate chamber music concerts to full orchestral spectacles, including performing live soundtracks to full-length movies and silent films.
Orchestra Novo's Co-Creation Project has united us with a number of underserved and disadvantaged populations within our community such as the Grizzly Academy, SLO Alzheimer's Association, Transitions Mental Health Association, the Central Coast Autism Spectrum Center, and SLO Veterans Service Collaborative.
The Summer String Academy attracts students from throughout California and brings together students ages 12-18 from varying economic and social strata for a mutually-beneficial program of educational and personal development.
Orchestra Novo's Family and Children's Concerts are designed to captivate the imaginations of the young and young at heart and to share in the wonderment and beauty of music as we continue to look for new ways to inspire, enrich, nurture, and transform the lives within our community and beyond.
ONward!
---
Michael Nowak, Artistic Director
Kat Alessi, Executive Director
Orchestra Novo Board of Directors
Craig Kincaid, President
Sharon Dobson, Vice President
Ginette Reitz, Treasurer
Toni Kincaid, Secretary
Miriam Grisso, Director
Mary Louise Piccard, Director
Mike Lujan, Director
John Astaire, Director
---
Artistic Advisors
David Hennessee • Gary Lamprecht   •   Kathleen Lenski
Nancy Nagano   •    Grace Seng    •    Eva von Franqué    •    Linda Ashworth
Community Advisors
James Brescia • Maryellen & Michael Simkins
Legal Advisor
Neil  S. Tardiff
---
Orchestra Novo
P.O. Box 1555    •    Morro Bay     •    CA • 93443 • (805) 458-2080
Admin@OrchestraNovo.org