CoCreation Project V, Transitions Mental Health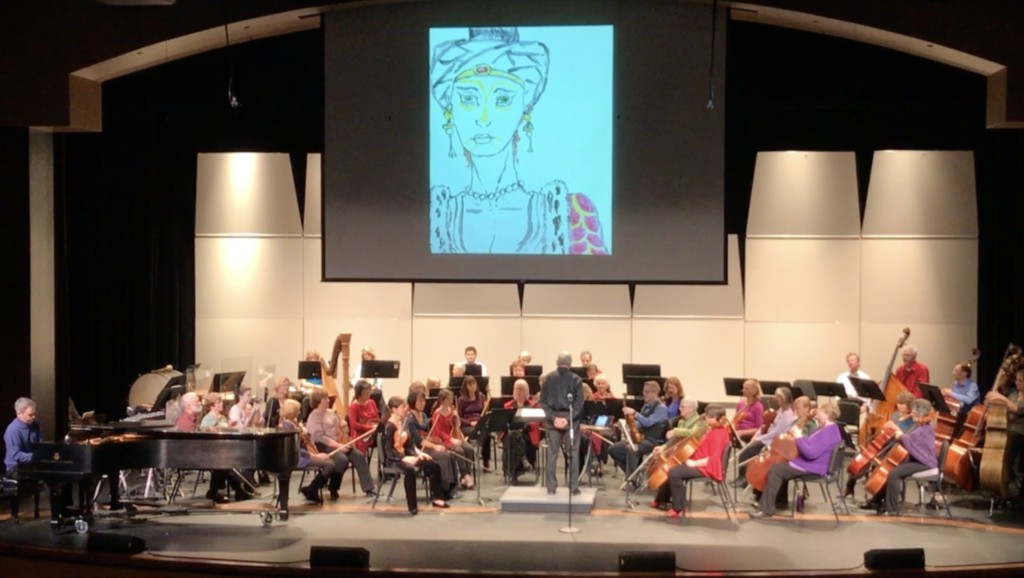 Participants painted to classical music and offered a glimpse into their world and how music speaks to them.
Our Project
"As has been 
the
 central theme of each Co-Creation Project, my intent was to reach out to a segment of our local population that, for 
the
 most part, goes unnoticed and underappreciated.
In 
the
 summer of 2019, I had 
the
 pleasure of being introduced to Michael Kaplan, Community Engagement Director of Transitions Mental Health Association, an organization 'dedicated to eliminating stigma and promoting recovery and wellness for people with mental illness through work, housing, community and family support services'.
Michael and I spoke at length about 
the
 healing power of music and how painting to classical music has a unique way of connecting directly to an individual's innermost sense of being and frees our minds and hearts to allow our imagination and creative spirit to express themselves safely and without judgment.
All looked so promising for a collaborative union between Orchestra Novo and TMHA, and then, COVID came along and stopped us in our tracks. 
The
 project, however dormant, was not to remain unfulfilled, and in 
the
 fall of 2021, I reconnected with Michael Kaplan to discuss ways to revive 
the
 music/art concept and bring it to fruition. In March of 2022, after much planning and coordination, it all came together, and participants from five TMHA centers congregated for two sessions of listening and painting to Bach and Ravel.
When I introduce 
the
 idea of painting to music to 
the
 participants, I tell them about my history of working in 
the
 film industry in Los Angeles and how 
the
 soundtrack is 
the
 last thing that goes into making a movie. For this project, however, we will play 
the
 soundtrack first and they get to tell 
the
 story that goes with 
the
 music.
Within minutes, 
the
magic
happens
, 
the
 connection is made, and 
the
 creative process begins. It's like getting a chance to see into another person's soul as hands dance across 
the
 paper and tales unfold before our eyes. It is that moment when Bach and Ravel open doors to imagination and inspiration, and in that moment, we are all equals and have bonded together in truth and beauty.
When the sessions were over, the artwork was collected, photographed, and transferred to a disk whereupon I was able to arrange the paintings in an order that followed the musical lines and provided a 
visual
tale
 that was projected onto a screen above the orchestra as strains of Bach's Concerto for Two Violins was performed live at Cuesta CPAC on Sunday, April 3, 2022. Our objective had been fulfilled and memories of that day will live long in our hearts and memories.
My sincerest thanks to Transitions Mental Health Association and their dedicated staff for allowing us a brief glimpse into 
the
 important work they are doing throughout our community and beyond."
Michael Nowak,
Artistic Director, Orchestra Novo
There is the power of connection, when two people come to understand one another without judgment.  There is the power of owning and telling one's story, free of self-consciousness, shame, or stigma.  And there is the almost supernatural power of art, when one is fortunate enough to channel impulses that take some internal truth and make it beautiful, mysterious, and communal.
Our collaboration with Orchestra Novo drew upon all of this power.  Members of TMHA's San Luis Obispo Wellness Centers and Northern Santa Barbara County Recovery Learning Communities gathered over two days with a readiness to connect.  They listened to the music that Michael Nowak curated, leaned into the muse, talked and encouraged and laughed with one another, and ended up with a stunning collection of paintings.
TMHA is grateful for this opportunity to collaborate with Maestro Nowak and Orchestra Novo.  It was a unique experience for all who participated, and dovetailed so elegantly with the way our agency strives to celebrate each individual, the journey they take, and the story they tell.
–Michael Kaplan, TMHA Community Engagement Director